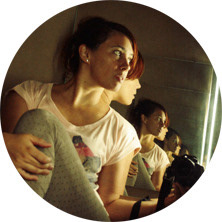 Chan Tejedor
A whole bunch of qualisigns
I'm a freelance Visual Researcher, Illustrator and Graphic Designer based in Calahorra, Spain. Specialized in Film Studies from University of Buenos Aires.
I was born in Buenos Aires, Argentina, in 1977. I studied Arts at the School of Philosophy and Letters of the University of Buenos Aires. I have been working in graphic design and illustration for advertising, film and cultural industries for several years. I have designed the visual identity for restaurants in Buenos Aires and Puerto Rico, tango album covers, and pieces for art direction for advertising and feature films. My latest work includes the creation of a visual pack for Warner Music Argentina's digital platform.
Nací en Buenos Aires en 1977. Estudié Licenciatura en Artes en la Facultad de Filosofía y Letras de la Universidad de Buenos Aires.  Desde hace varios de años, trabajo en Diseño Gráfico e Ilustración para publicidad, cine e industrias culturales. Hice diseños de identidad visual para restaurants de Buenos Aires y Puerto Rico, portadas de álbumes de tango y diseño de piezas para la dirección de arte de publicidades y largometrajes. Entre mis últimos trabajos, se destaca la creación de un pack visual para la plataforma digital de Warner Music Argentina.